Bando Automotive Belts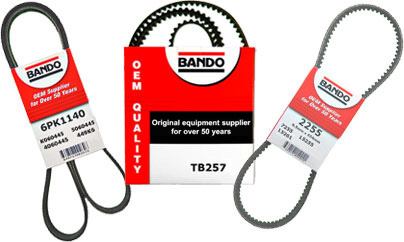 Bando is the leading supplier of OEM belt to manufacturers such as Ford, Chevrolet, GMC, Nissan, Toyota, Honda, Acura and Subaru. Their top quality Rib Ace©, Rib Ace Fit©, Rib Ace Aramid©, RPF Belts and Automotive Timing Belts are well known for their durability. Bando accessory drive belts have been proudly made in Bowling Green, KY since 1988.

SEARCH TIPS: Example:
6PK3160
TB315
RPF2295

If the product that you are looking for does not show up in the search, please contact our dedicated sales team at 888-291-5450. You can also e-mail us at Salesteam@VBeltSupply.com.