(21/32") B Classic V-Belts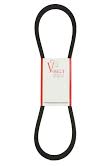 Classic B (21/32" top width) v-belts are exactly that, classic in design and application. The classic B belt is the most tried and true style of v-belt in the market. Originally designed to replace leather belts in a variety of industries including agriculture, facility maintenance, heating ventilation and air conditioning (HVAC) and lawn & garden. Also known as a light duty v-belt, they are designed with a 40° angle to "wedge" the belt into the groove of the pulley. The greater the load, the greater the wedging action. The manufacturing process combines a rubber compound with a polyester cord to increase strength and stability. Most B belts are also available in Kevlar.
Conventional v-belt suitable for all standard industrial applications. Standard operating temperatures ranging from -1° F through 158° F. ISO:9001 Certified
Sorry, there are no matching products.
If you can't find the V-Belt you're looking for, let us track it down for you.